Company
We create new values for the future
Overview
SK Plasma plays the role of creating national health safety nets and goof social value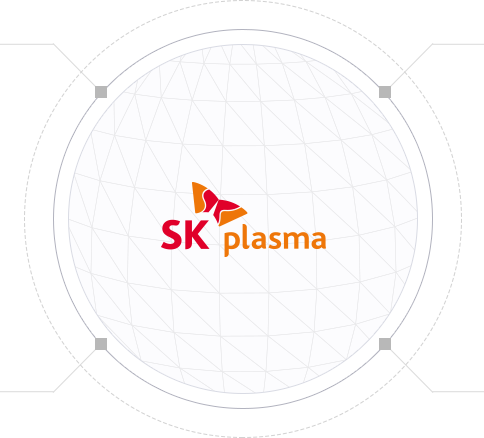 Expertise
From 1970, SK Plasma
has built its expertise through continuous
development.
Quality
High quality products are
provided through high
standards quality control
and assurance system.
Safety
SK Plasma applies
an advanced production
system to ensure the
safety of the products.
Future
With the new production
plant in Andong,
SK Plasma enhanced the
production capacity and
also further the scope of
the business
Site Introduction
" Light of Hope for Korea's Innovative Growth, Pangyo Techno Valley "
Eco Lab (HQ Office)
Eco Lab, our HQ office, is a symbol of SK Plasma's mission to promote human health and to protect the environment.
Highest grade in international Eco-label
Eco-friendly materials
44% energy saving
33% reduction in CO

2

emission
63% saving of water resources
| | |
| --- | --- |
| Address | [13494] 310, Pangyo-ro, Bundang-gu, Seongnam-si, Gyeonggi-do, Rep. of KOREA |
| E-MAIL | skplasma@sk.com |
| TEL | +82-2-2008-2008 |
| FAX | +82-2-2008-2959 |
" Central Hub of Korean Bio Industry, Andong, Gyeongsangbuk-do "
Andong Plant
The Andong plant, which was completed in 2016, has the latest production facilities on the site of about 30,000 m2 and received KGMP approval
Top priority in quality and safety
Advanced process construction

Streamline operations by bringing storage/fractionation/purification/filling/packaging facilities together

Effiecent process management

Implementation of central automation system of Process SCADA (supervisory control and data acquisition)/EMS (environmental monitoring system)/BMS (building management system)

System installation considering energy
and environment

Minimization of pollutant emmision,
Reducing energy use
| | |
| --- | --- |
| Address | [36618] 157, Saneopdanji-gil, Pungsan-eup, Andong-si, Gyeongsangbuk-do, Rep. of KOREA |
| E-MAIL | skplasma@sk.com |
| TEL | +82-54-851-4200 |
| FAX | +82-54-853-4401 |
Company Location