Company
We create new values for the future
CEO message
We focus on the growth and success in the plasma-derived biotherapy industry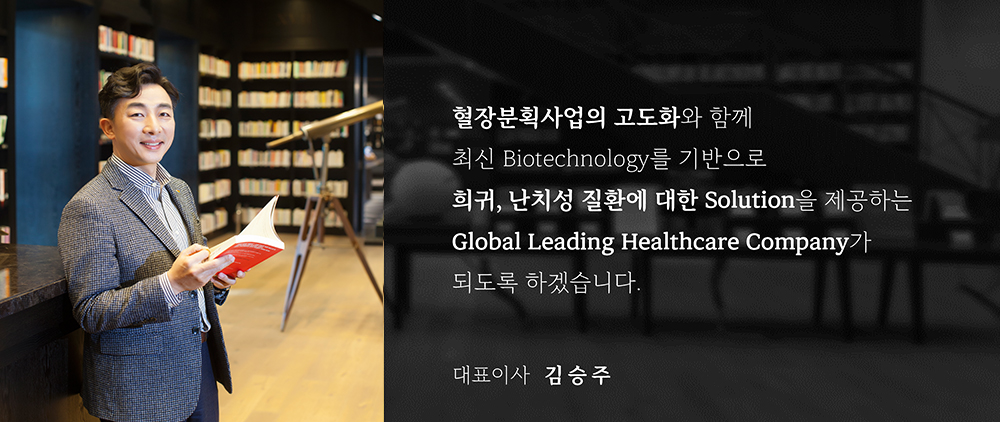 Greetings to all,
Thank you for visiting the homepage of SK Plasma.
Established since 1970, SK Plasma specializes in plasma-derived medicine and carried plasma fractionation business under the founding principle of "promoting human health and protecting the environment."
In 2015, SK Plasma has spun off from SK Chemicals Life Science biz. and became an independent company, focusing on core competencies in the plasma derivative business to improve competitiveness and to achieve the acceleration of global expansion.
Plasma derived products are essential medicines to treat diseases that can be directly linked to human life, such as congenital immunodeficiency diseases and hemophilia. Therefore, SK Plasma does not simply to cease to generate economic value but also take a part of major role of creating social value to protect health of human lives.
Furthermore, in order to respond to the rapidly increasing demand of plasma-derived biotherapies in both domestic and international, we have constructed the most advanced new plasma fractionation plant in Andong and started commercial production with KGMP approval in August 2018.
In addition, we are continuing to develop new products to strengthen our competitiveness and lead the health of humanity.
We ask for your continuous interest and encouragement to the new challenges and evolution of SK Plasma.
Thank you.
CEO Seungju Kim